Abruzzi's "Hot Peppers in Oil," a traditionally spiced, flavor-rich topping enjoyed on Italian bread, pizza, grilled meats, hamburgers, hot dogs, deli sandwiches, omelettes, salads, pasta, and more!
Abruzzi's hot & sweet peppers in oil make great gifts for the holidays, or any occasion!
The possibilities are endless with Abruzzi's!
What our customers have to say..
Thank you for your expedited shipment of hot peppers to Boston for my daughter's birthday....she said "best birthday gift ever"   Your follow up detail and product are superior and we have now added you to our regular shipment list!

Patte Fithian
Received the order, they are still the best and will order again soon! God they are good!

Sonny Parker
I finished my 12 jars of peppers today can't travel home in Niles to get more, so ordered online..  hope you get them in stores here in Richmond Va. 

Robert Rose
Moved from Canfield, Ohio to Texas and I could not find any canned hot peppers anywhere in this state but after searching the internet for a while I was able to find your peppers and in which I received on 12/18. That night I brought the peppers to a party here in Texas where no Texan has ever had these kind of peppers before. Four hours later the jar was empty and people are asking where I got them from, these peppers are awesome!!!

Gary Breuer
I usually don't do this but recently I had purchased your sweet peppers in oil.  We usually make our own sweet and hot peppers, but a little behind this year so I figured I would try yours.  And I just wanted to make sure and send you guys a message to let you know that your peppers are absolutely delicious.  They're crisp, right amount of ingredients and absolutely excellent on hot dogs, hamburgers, and steaks.  You definitely have me as a customer!

S. Rocco
I have been enjoying these peppers since 1976. Recently relocated to Fla. Thank you for the prompt delivery, keep the tradition of the (Abruzzi's) 422 alive!

T. Boyd
Very efficient delivery, placed my order on a Sunday night.. jar of peppers was on my Thursday dinner table in North Carolina.

Jeff Hartiage
I went through half a jar in two meals and could have added more!  It really spiced up my turkey sandwich!  Um Um Um!  I have lots of plans for your peppers... pasta, stir fry, seared salmon, burgers.  Lots of room for creativity.

Marguerite Baca, Creator of Buns of Steel Yoga
My wife is addicted to your peppers!!  We ordered both the hot and the sweet, but she prefers the hot.  She actually transferred the left over oil from the hot jars to the sweet jars! lol

Brad Blackwell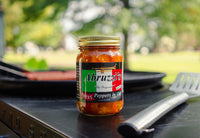 Abruzzi's on 21-WFMJ News!
"It's a taste from the past." "For decades, the Abruzzi name made you think of good food. These days it's popping up again, this time in grocery stores on jars of their signature hot peppers..." 
OUR STORY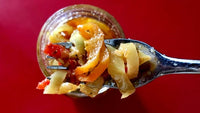 A review from the Columbus Underground!
"In Warren, OH, Abruzzi's is the stuff of legends." Abruzzi Café 422 was originally an Italian restaurant that made its debut in 1939..."
see review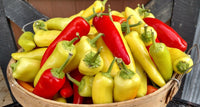 Locally sourced!
Abruzzi's peppers are locally sourced from farms in OH & PA. Click below to see a few of our product displays in supermarkets.
Photo Gallery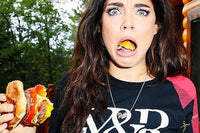 Are they REALLY hot?
Don't worry!  Abruzzi's Original Hot Peppers In Oil are actually in the "mildly hot" category.  This is an everyday pepper you can eat right out of the jar, which makes it a perfect topping on many foods! 
If mildly hot peppers are still too hot for you, we have a SWEET pepper version! >Watch fan videos from "First Timers!"
VIDEOS
**Orders received by 10 AM EST M-F will ship the same day. Orders received after 10 AM will ship the next business day.
Abruzzi's Hot Peppers, LLC
371 Marwood Drive SE,  Warren, OH  44484
330-883-7933